Prince Harry and Meghan Markle have announced that 1,200 members of the public will be invited to Windsor Castle to share their "moment of fun and joy" during their wedding day.
These will be among the 2,640 people that will watch the arrival of the bride and groom, the arrival of their guests and the carriage procession through Windsor as it departs from the castle. However, it will not give access to the ceremony itself.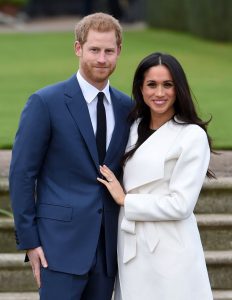 Kensington Palace said in a statement that Prince Harry and Markle want the public "to feel part of the celebrations too".
The lucky guests will be handpicked and nominated by nine regional Lord Lieutenant offices. Kensington Palace said that the couple has requested that:
"The people chosen are from a broad range of background and ages, including young people who have shown strong leadership, and those who have served their communities."
Other guests included will be 200 people from a range of charities and organisations which both Prince Harry and Markle have close association with.
610 Windsor Castle community member, 530 members of The Royal Households and Crown Estate and 100 pupils from two local schools will be among the group.
The wedding will take place on May 19 and will be held at St George's Chapel in Windsor Castle.  The couple will join their guests for reception at St. George's Hall.
The chapel holds about 800 people, making it a smaller ceremony than the Duke and Duchess of Cambridge's wedding at Westminster Abbey.
Prince Harry met former Suits star Markle on a blind date, proposing only after 16 months as they cooked a roast chicken dinner at Harry's home, Nottingham Cottage at Kensington Palace.