Thank the Lord Dry January is over. The bleakest month of the year.
But if you're already dreaming of World Gin Day in June (and really, who can blame you?), here's something that could perk you up.
London is in the midst of hosting a gin festival that has live music, food and the most outrageously large variety of gin the UK, but certainly Tobacco Dock, has potentially ever seen. It would be rude not to.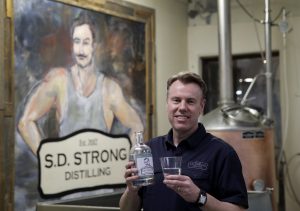 But recently there has been a resurgence in the interest of gin in the UK: our country now calls itself home to a Gin Spa, where visitors can enjoy a juniper foot soak and a gin tasting menu. We have gin parties, ginvent calendars and even a Ginstitute hotel: we really are back in head over heels in love with the liquor.
The demand for gin is so high that there are now 315 distilleries in the UK, which is more than double the number operating five years ago.
Such is its popularity that last year the Office for National Statistics put gin in the basket of goods it monitors to measure inflation.
Absolutely gin-credible, if we do say so ourselves.