The British luxury brand sounded the alarm over a no-deal Brexit, saying it could cost tens of millions of pounds and seriously disrupt the supply chain.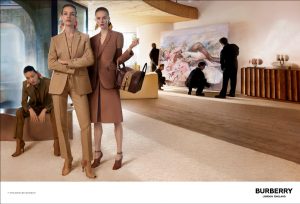 Britain's premier luxury brand, famous for its iconic trench coats, said a no-deal Brexit would lead to tens of millions of pounds a year of extra costs in the form of tariffs.  They said it would also severely disrupt the movement of products from supplier to customer.
Britain is due to leave the EU in 64 days, and with the rejection of Prime Minister Theresa May's latest deal in an historic parliamentary defeat, the nation and its businesses are once again plunged into insecurity.
The fashion industry, which relies heavily on international trade, would be particularly affected in case of a no-deal scenario. Simply having to pay to trade with the EU, or stopping the easy flow of people from the UK to the EU, is enough to put the £32 billion sector in jeopardy.
Burberry fashion house, which is one of the country's highest-profile exporters, is already taking actions to mitigate the hit from a no-deal situation. The firm manufactures its trench coats in Yorkshire, and sources other products from Europe.
"We are committed to the UK and we are very proud to be British," chief operating and financial officer Julie Brown said. However, she made a warning over the consequence of leaving the EU with no deal. "It would be very complex to manage," she added.
Brexit is not the only challenge the brand is facing. After several years of decline in sales, chief executive Marco Gobbetti announced the plan to take the brand more upmarket. His decision to appoint Ricardo Tisci as a creative director for the brand received an overwhelming positive response from the audience, especially amongst the millennials.
With fewer than four weeks until his fall 2019 show, the company hopes for the best as they continue their turnaround.
Feature photo taken from Flickr under creative commons license (CC BY 2.0)