All throughout India, children and adults alike gather to form groups of thousands, armed with dry coloured powders and water guns. People from a variety of unique backgrounds are coming together to douse their friends and family with myriad colourful ingredients. Different camera brands have featured Holi in ad campaigns, and today's Google Doodle highlights the event, but why is Holi celebrated?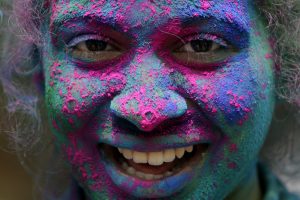 History:
Holi was first mentioned in a 4th century Hindu poem. The festival celebrates the inception of good as evil winter weather fades away. The festival is a national holiday that occurs on the final full moon of the Hindu lunisolar calendar. This year, the festival started yesterday and ends this evening.
Traditions:
Bonfires and lots of colours. Across India, Holi represents an ancient mythological story with a strong moral line that deems good always triumphs evil. The tradition of throwing coloured powders and water originates from the love story between Radha and Krishna. Krishna is a Hindu God of compassion, depicted with blue skin fell in love with fair skinned Radha. In an attempt to assuage Krishna's sadness, his mother smears Radha with a variety of coloured powders. The tradition continues today as people of all walks of life spread colour throughout the streets of India.
Holi exists outside of India as well. In London, the Indian restaurant Cinnamon Kitchen sells tickets for £12 and mimics the spring festival. Holi cocktails are sold and Londoners can even get their hands dirty in a colour war!