In a lengthy Instagram story, the 57-year-old This Morning – presenter has revealed he's gay.
He wrote: "You never know what's going on in someone's seemingly perfect life, what issues they are struggling with or the state of their well being – an so you won't know what has been consuming me for the last few years. With the strength and support of my wife and my daughters, I have been coming to terms with the fact that I am gay."
Schofield met his wife Stephanie while he was working for BBC's children's television and she was a production assistant for the broadcaster. The couple have been married for 26 years. Together they have two daughters, Ruby, 24 and Molly, 27.
In the emotional post, the presenter adds: "Steph has been incredible – I love her so much. She is the kindest soul I have ever met. My girls have been astonishing in their love, hugs and encouraging words of comfort."
Fellow This Morning Presenter, Holly Willoughby posted a selfie of the two together captioning it: "Never been more proud of my friend than I am today. We'll be together at 10am on This Morning x"
Read Schofield's full statement below: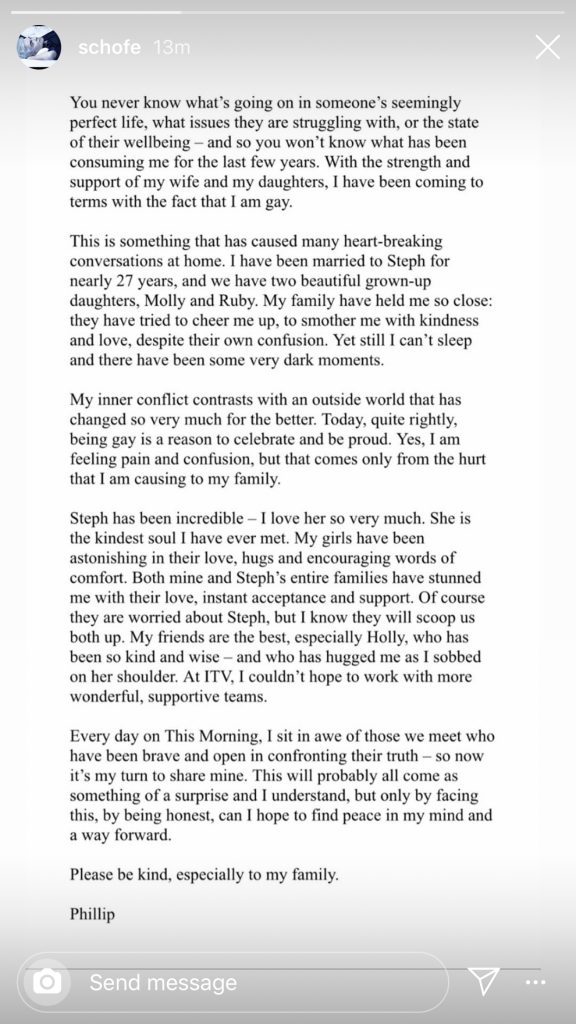 February also marks the start of LGBT+ History Month to celebrate the lives and achievements of lesbian, gay, bisexual and transgender people.