A quarter of Britons think that the BBC is anti-Brexit, according to polling data from YouGov.
The poll revealed that 27 per cent of those polled believed BBC News is anti-Brexit. This makes it the second most anti-Brexit news outlet, just behind the Guardian, which was deemed anti-Brexit by 33 per cent of respondents.
By comparison, only 11 per cent of respondents believed Sky News was anti-Brexit. ITV news polled slightly higher at 13 per cent against the referendum vote while 18 per cent judged Channel 4 News to be anti-Brexit.
The BBC is legally required to produce impartial coverage under the rules of the BBC charter. The former culture secretary John Whittingdale warned the BBC last year that it could face fines for perceived Brexit bias.
A BBC spokesperson told City News: "The BBC continues to report Brexit impartially and features a wide range of different perspectives across our news coverage. Our journalists report independently and without fear or favour. It is one of the reasons why the public trusts the BBC more than any other source of news."
The BBC was deemed the second most pro-Brexit broadcaster behind Sky News. Just 3 per cent of respondents thought Channel 4 News was in favour of the Brexit vote.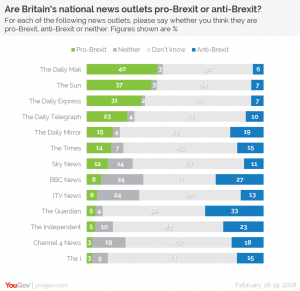 YouGov's poll covered both the nation's biggest broadcasters and print publications. The majority of respondents said that they either did not know where the outlets stood on Brexit or believed that favoured neither side.
The Daily Mail, the Sun and the Express were judged to be the most pro-Brexit newspapers while the Guardian and the Independent were seen as the most opposed to the referendum outcome.
A total of 1,676 adults were surveyed on their thoughts on Brexit coverage by YouGov. The results were published last week.