Cold temperatures might be causing shivers far and wide, but for millions in Texas, United States, the freezing weather has meant a week spent without water, heating or electricity. Left in temperatures as cold as -10 degrees, people are struggling to heat their homes, as the Texas power grid suffers a detrimental failure.
Two winter storms have killed at least 47 people to date, with 30 of those deaths happening in Texas, according to data from The Washington Post. 
As a result of the power fail, millions of Texan residents have not been able to heat their homes sufficiently in severe temperatures. Some have even been forced to resort to dangerous methods of obtaining heat, such as using gas grills indoors or running cars inside closed garages.
So far, at least five deaths have occurred from carbon monoxide poisoning, caused by desperation to stay warm, reported The Washington Post .
Last night, a spokesperson for the Texas Department of State Health Services told NPR that a total of 450 carbon-monoxide related calls have been made to the Texas Poison Centre Network since the 11 February.
For those not heating their homes due to the loss of power, the results have been terrifying. Some people took to Twitter to share fish-tanks that have frozen solid.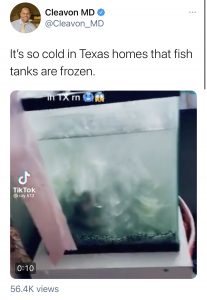 But as the power grid slowly begins to switch back on over the weekend, millions are still struggling to access drinking water, with Houston, Austin and San Antonio under boil water advisories. This means that around 13 million people must boil contaminated water before drinking it. Some areas have lost access to running water completely.
On Twitter, Texas Senator Ted Cruz is coming under fire for flying to Cancun, Mexico, amid this weather crisis that has left Texan people at risk of losing their homes and lives. In a written statement on Thursday afternoon, the Senator attempted to defend his trip, saying that he had booked the vacation for his daughters who "asked to take a trip with friends" due to school closures in the state.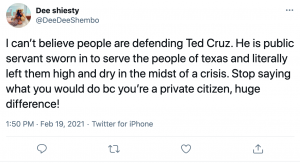 The Republican Senator has now returned to Houston.