Since December, students have pledged to withhold further rent payments for university accommodation they cannot use due to coronavirus restrictions. Earlier this week, the latest Save the Student survey results showed that UK students spent a total of around £1 billion pounds on unused accommodation.
Despite the protests, private developers have announced plans for new student accommodation. Leicester council has even given the go-ahead to a new six-floor student accommodation by TANG developments today.
While building work has continued on new student accommodation, only 32% of respondents to the Save the Student survey said they had received any reimbursement, with only 9% fully receiving a full refund. The situation has provoked the largest rent strike in the UK for 40 years, according to Rent Strike, a grassroots group that is coordinating many of the protests.
According to the survey, 50% of students feel their accommodation is of poor value for what they're paying. Many students have also expressed their discontent with universities over the situation and trust is steadily declining.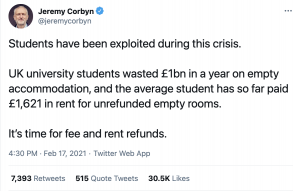 Islington North MP Jeremy Corbyn has for university fee and rent refunds for all affected students.
Despite this, many students are still to receive any reimbursement.
Theo, a student at the University of St Andrews in Scotland, has had to continue to pay his rent for his unused room. "We're expected to pay as if we were living here," he added.
Theo said his private landlord urged students not to return to their accommodation because of the coronavirus pandemic and offered to mail students their belongings.
"They've offered to use a postal service, but this will cost around £300 to £400," Theo said.
The National Student Survey showed that 50% of students struggled to keep up with their rent this year, and 45% have also added that their studying has been negatively impacted by the issue.
On top of that, 60% of students have claimed that their health has been negatively impacted, in particular their mental health. One of the survey respondents even said "There is little to no mental health or wellbeing support on offer and we are unable to contact our residential support officers."
For Theo, this lack of support has created financial hardship. "I pay for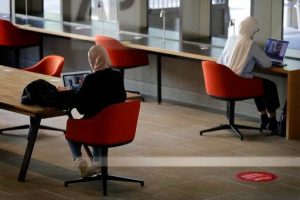 catered accommodation, so when budgeting for the costs I've taken into account food. Since I'm back home now I need to pay for my own food, so I have to double my spending on food."
Despite these protests, large investment firms, such as KKR continue to see the UK as a strategic market for student accommodation. In a businesswire interview Seb D'Avanzo, the managing director at KKR, announced the £291 million sale of student accommodation to the company Greystar Real Estate Partners.