February is national LGBT+ History month, an event marked to honour the work of queer campaigners past and present and to increase awareness of LGBT+ lives and experiences.
But despite the rainbow flags that fly high across the country this morning, the sky remains cloudy for the queer community.
With hate crime against LGBT+ individuals on the rise in the UK, along with disproportionate numbers of mental health diagnoses and LGBT+ youth homelessness, there is still a lot to be done.
To mark LGBT+ History month, three of London's most prominent queer activists reflect on the movement that defined their community and the progress that's yet to come.
Maggie Matich is a 25-year-old researcher and curator, currently writing her PhD on the contemporary feminist movement.
She married her wife, artist Rene Matich, in 2016 and live-streamed the wedding to their thousands of online followers.
Both Maggie and Rene use their social media platforms to document and share their love story, in what has become a radical act of queer resilience.
Maggie said: "When I was growing up, the conversations just really didn't exist around two femme-presenting queer women in a relationship, especially in a marriage, because it just wasn't legal until a couple of years ago.
"We have to be pioneers, in terms of sharing the complexities of queer relationships, because no one else is.
"There isn't the TV shows, there's no Love Islands, we don't have our own spaces, we don't have our own images of queer love in that way, and those small things are really important."
She added: "I think because we don't have them, we have this drive to be that representation that we're missing.
"It's still difficult, we still have a long way to go in terms of just being treated like a normal married couple.
"We are living in a time where we've been able to get married and been able to share that, at least there's that conversation now.
"Whilst we have a long way to go, we've also come a long way. I feel very excited that people can appreciate and enjoy Rene and I through our social media.
"We have so many other amazing queer female friends and non-binary friends, who are just changing the rules. It's an important time to be visible."
Charlie Craggs, 25, is a transgender activist and author of To My Trans Sisters. She speaks on the importance of representation and her LGBT icons throughout history.
Craggs said: "I think we've got to the point know where it should be about intersectionality, taking into account race, gender, disability and understanding that, there isn't one answer to the question of what it means to be a woman or a man, there's a million answers.
"It's about helping each other on our own walks and journeys.
"My mum and my Nan have shown me that there's so many different ways to be a strong woman in 2018, so I take a lot of inspiration from them.
"Marsha P. Johnson and Sylvia Rivera are a huge inspiration for me as a trans-activists but also as a women.
"Nadia from Big Brother is really big icon for me as well, seeing her was probably the first time I saw myself reflected in the media when I was growing up.
"I was like 'that's who I am', and I knew for the first time, watching her on Big Brother."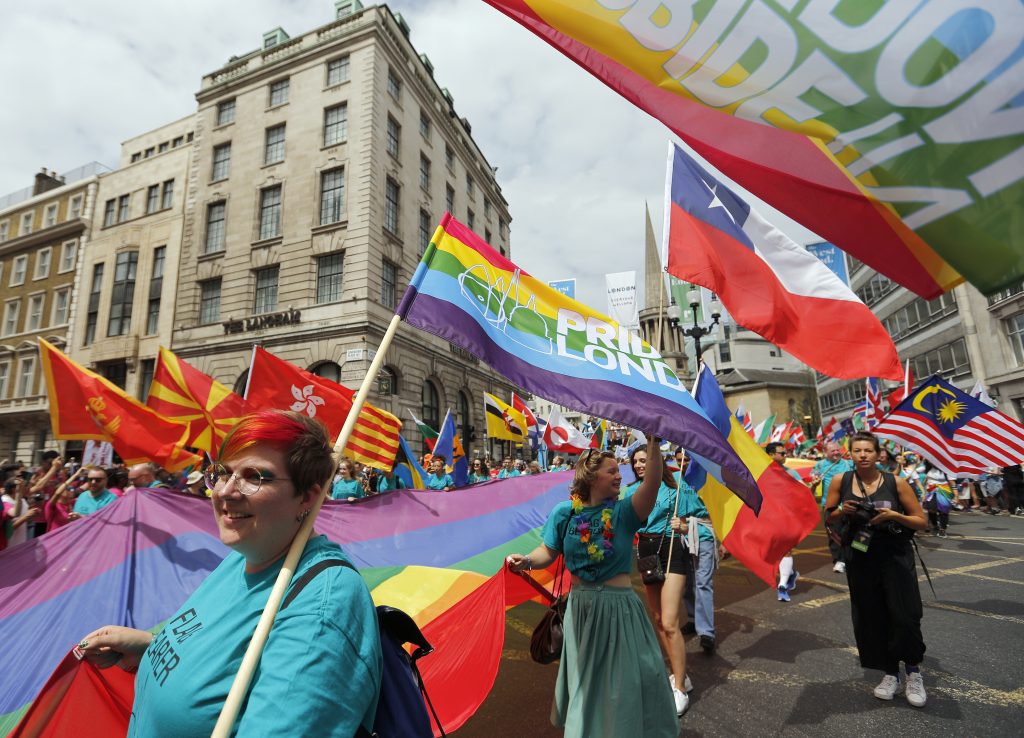 This year's Big Brother has been praised for it's discussion and debate around gender, identity and sexuality, marking a change in the public discourse and increasing awareness of the LGBT experience today.
Michael Segalov, News Editor at Huck Magazine and co-founder of the LGBTQ+ community centre project, speaks on the importance of a shared history for the queer community, both past and present, and the change he wants to see in the capital.
Segalov said: "Being gay or being queer is the only 'protected' identity that doesn't run in the family, if you're female, black, Muslim, there's a shared history that's easy to tap into.
"Lessons that could have been passed down, just aren't. One of the ways we're trying to allow this community to form a shared understanding, is to open a community centre in London.
"A permanent space run by and for LGBT+ people that ultimately becomes a hub for the community. You look to the rates of drug and alcohol abuse, homelessness and mental health problems and across the board, the LGBT community are really struggling.
"Across London, far from venues opening, they're actually shutting down. We need a cohesive and unified voice going forward, which is what we're looking to create.
He added: "People think we have equality now and they don't realise the problems are so much more deep-rooted, the sense of self-loathing and feeling isolated, it runs deep.
"Homophobia is still rampant in our society and we have people like Theresa May in parliament who have actively voted against legislation that will make LGBT peoples' lives easier.
"There will need to be a reassessment on what equality means, what progress means and what we're actively campaigning for.
"We could pass all the legislation possible, and yet I don't doubt we'll find our community is still faced with problems."
As we advance forward as society, this month arguably marks the most progressive LGBT+ History Month yet, but it's not all rainbows and butterflies for the queer community. The fight rages on.