British Company, Swindon Powertrain, has revealed its new electric version of the classic mini as part of The London Classic Car Show today.
The new model comes with added boot space, with the removal of the original fuel tank, and offers a top speed of 80 miles per hour.
The launch coincides with a boom in the electric car industry with sales of new electric cars in the UK rising by 21% in 2018, reaching a market share of 6% of all vehicles. In contrast, diesel car sales plummeted by 30%, though these vehicles still represent a 32% market share.
The electric model means zero road tax and congestion charge for all Londoners, making it a cost-effective inner city car.
'The mini has always been a city car. It's easy to park, it doesn't pollute so you keep the air quality as good as possible around you and it's easy to use,' says Raphael Caille, managing director of Swindon Powertrain. 'No gear changes, no clutch, it makes perfect sense in town.'
Electric cars are already cheaper to own and run than petrol or diesel alternatives in five European countries,  new research by the International Council for Clean Transportation (ICCT)  shows.
The study examined battery electric, hybrid, petrol and diesel versions of the VW Golf and found over four years, the pure electric version was the cheapest in UK, Germany, France, Netherlands and Norway, owing to a combination of lower taxes, fuel costs and subsidies on the purchase price.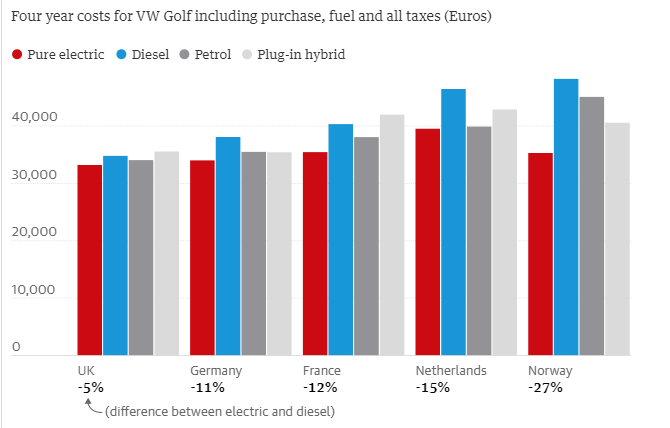 Electric car owners can currently benefit from reduced parking and road toll charges and initial purchase prices are also set to fall between 2025 and 2030 as battery prices drop.
Prices for the Swind E Classic Mini start from £79,000.