The government is rushing to book thousands of hotel rooms in a bid to get hotel quarantine rules in place by 15 February.
The new quarantine rules are a part of the government effort to reduce the spread of mutant coronavirus strains like the ones seen in South Africa and Brazil.
The Daily Telegraph said that the government is hoping to secure almost 30,000 hotel rooms for travellers to quarantine in until late March.
The rules impact UK residents travelling from the "red list", which is made up of 33 countries including the United Arab Emirates, South America, Portugal and South Africa.
Travellers will be required to take a coronavirus test on the second and eighth day after their arrival into the UK, and will only be allowed to leave quarantine hotels once they receive a negative test result.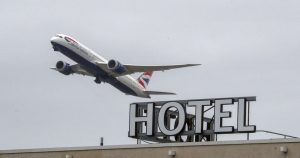 Quarantine hotels will be situated within close proximity to airports including Heathrow, Gatwick, London City, Manchester, Bristol, Birmingham, Glasgow, Edinburgh, and Aberdeen.
Hotels across the UK have been given a strict set of procedures which they must follow and have been told that they should work with government hired security guards who will monitor them.
Meher Nawab, chief executive of hotel chain London Hotel Group, told PA that it's not easy for hotels to prepare for these new rules and "there is a lot of training to go into this, a lot of health protocols as well, and actually the insurance has to be approved."
Dr. Mike Tildesley, a member of the Scientific Pandemic Influenza Group on Modelling, said hotel quarantine rules should be implemented immediately as opposed to the proposed plan to introduce the policy on 15th February.
Dr. Tidesley told Times radio: "As with any control policy, as soon as you realise you might need to do this you need to introduce it immediately, which is why any delay, as we saw perhaps with the South African variant and delays to bans there, leads to the possibility of the virus getting in and circulating more widely."
James Cridland is currently in Australia and also believes that the UK government are not acting quick enough to get the hotel quarantine scheme in place: "The UK has a massive advantage because it is an island, like New Zealand and Australia, both of whom have hotel quarantine, and both of whom are essentially virus-free. I find the government's slowness to put quarantine in place is bewildering."
I'm in Australia. The whole of Brisbane was locked down a few weeks ago because of ONE CASE. Other than that, literally the only cases are in hotel quarantine. It's a super-effective strategy. I don't understand why the UK would dawdle. (As a Brit, I'd suggest it's incompetence)

— James Cridland (@JamesCridland) February 5, 2021
But Mr. Nawab said that the 15 February deadline does not give hotels enough time to prepare to accommodate travellers. A report given to hotels near air and seaports outlined that hotels should expect around 1,425 travellers a day. 
"To set all the processes up you need virologists to come and visit the property, you need to set up hygiene protocols, that can't all be done overnight," Mr. Newab told PA.
The full list of "red list" countries can be found here.