Around 2.3 million British travellers did not receive a refused for flights they did not take due to the coronavirus pandemic, according to a survey by consumer rights group Which?. Airlines are only legally obliged to offer a refund if a flight is cancelled.
Travel to Bulgaria from the UK is currently not permitted under the UK's national lockdown, unless for essential reasons. This meant that Katie Broughton could not take her scheduled ski trip to Bankso, Bulgaria on New Years Eve, leaving her and her boyfriend £280 out of pocket.
"British Airways said we could apply for a refund but we had to phone them" said Katie. "When we called, there was an automatic response saying they could not answer our call due to the Coronavirus situation, this happened maybe five or six times, but you couldn't apply for a refund online."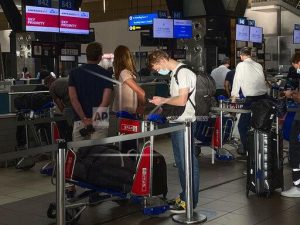 Call centres are currently closed as another result of the pandemic, making it difficult for customers to speak to customer service representatives at airlines.
"My boyfriend's sister told us there was a form we could use to apply for a refund with, but we sent that off on 30 December and still haven't received any money back. I tried calling my bank but because the flight wasn't cancelled and we paid on debit card, they said they can't help."
Whilst consumers may not be entitled to a refund, many airlines including British Airways, Easyjet and Ryanair have waived their flight change fee in light of the pandemic, allowing customers to rebook their flights for a later date.
However, with financial uncertainty caused by the pandemic those who booked a holiday pre-pandemic are not necessarily in a position to postpone.
Katie, who worked at Costa Coffee when she booked the trip, said: "When we booked the holiday both me and boyfriend had full time incomes and would have been able to afford the holiday no problem. But we have only been receiving furlough for 10 months now as my work is based out of a building which is closed.
"I've just been told that my hours won't be needed after lockdown so there is no way we could afford the trip now, even if the flights are free because of accommodation, food etc. Getting back the money we spent on flights would make a real difference."
According to the Which? report, Katie isn't the only passenger who felt she could not reschedule, as others have said that even when the country was not in lockdown, they felt unable to travel due to the Foreign, Commonwealth and Development Office advising against travel to that destination.
Although this doesn't legally restrict passengers from taking their holiday, this advice usually invalidates travel insurance , not to mention the risk of coronavirus contraction from travelling.
So what about holidaymakers wanting to book trips abroad this summer?
The Which? report advises they hold off, saying that anyone considering booking international flights this summer should wait until the situation regarding international travel is clearer. They also advise to book a package holiday instead of independent flights, and to book through a trusted provider with a flexible booking policy to be safe.